Lewis MacAdams Riverfront Park (Formerly Marsh Park)
Park Details

Address:
2999 Rosanna Street, Los Angeles
Features:










Part of the Los Angeles River Greenway, the 3.9-acre Lewis MacAdams Riverfront Park is located adjacent to the nine-mile section of the 51-mile Los Angeles River known as the Glendale Narrows that has a natural "soft bottom," instead of a concrete floor. This allows native river plants and animals to thrive as if the river were in its natural state. The park provides access to the L.A, River Bike Path and the Los Angeles River Recreation Zone.
With a stellar view of the Verdugo Hills, as well as picnic grounds, grassy areas, and nature-themed children's play equipment, the park also includes restrooms, a loop trail with 13 outdoor fitness equipment stations, and two outdoor classrooms. Plenty of parking is available, as well as electric vehicle charging stations.
A distinctive, open-air pavilion  can accommodate more than 200 people for events of all kinds.
Smartly designed with innovative "green" features, the park is engineered to clean water that flows from city streets before it enters the river. Bioswales, which are earthen drainage ditches lined with river rock and native plants, course through the park. Polluted water is naturally cleansed as it seeps slowly into the ground through sand, rocks, and clay. Parts of the park have been lowered to assist in collecting and filtering water and to replenish the natural underground water storage system known as the aquifer. In the arid climate of Los Angeles this is especially important.
The park is planted with native marshland and upland plants, which assist with water infiltration and encourage birds, mammals, and insects such as butterflies to inhabit the area. Over 100 California native trees shade the park, and custom art fencing depict birds returning to a restored riverfront.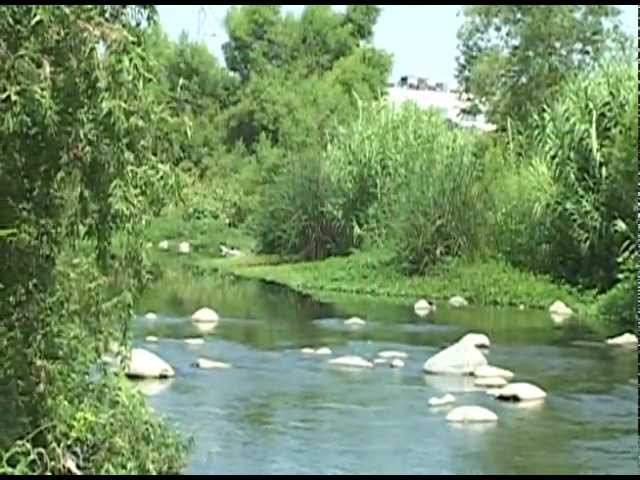 Special Note
Entrances are at 2999 Rosanna Street, 2944 Gleneden Street, and 2960 Marsh Street. The park is also accessed from L.A. River Bikeway.
*Photo of Lewis MacAdams and friends by Gary Leonard